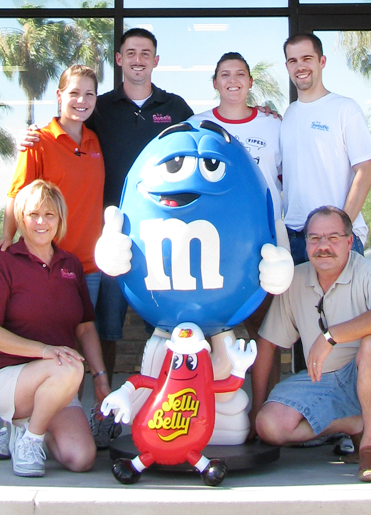 Sweeties Candy of Arizona is the largest and SWEETEST candy store in Arizona! 
At nearly 13,000 square feet, our walls are bursting at the seams with the largest selection of candy anywhere! We have been a family owned and operated company for more than 60 years! Can't find or think your favorite candy no longer exists? Chances are, if it is still manufactured, we'll have it!
We stock all the old-time classics of yesterday to the amazing new sweets of today. Bulk candy as far as the eye can see, wrapped and unwrapped, assorted, separated by individual colors. There is no shortage of options for all your celebrations and events! Sugar-free candy, every flavor of Jelly Belly, Mexican candy and plenty of unique items that will tickle your tastebuds! 
For a Piece, or a Pound, or a 1/2 Ton, shop Sweeties Candy for A Bag of Sweet Fun! YUM!
Sweeties Candy of Arizona
1986 North Alma School Road
Chandler | Arizona | 85224
480.899.4245 | phone
480.899.4252 | fax
Store Hours
Monday-Saturday | 9am – 7pm
Sunday | Closed
*Closed major Holidays including New Years Day, Easter Sunday, Memorial Day, Independence Day, Labor Day, Thanksgiving Day, and Christmas Day